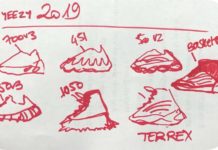 Kanye West revealed he is "adding basketball" to his Adidas Yeezy sneaker brand The two-word announcement went out to the rapper's nearly 28 million Twitter followers. His confirmation that the first...
Knicks center Enes Kanter can talk trash with the best of them - but he had no answer when a bunch of kids at a summer camp out-trash talked...
Australians Daniel Kickert, Thon Maker and Chris Goulding have been suspended by basketball's governing body for their part in the ugly brawl between Australia and the Philippines. FIBA also suspended...
The last time two-time NBA champion Lamar Odom was making headlines he was in a coma. But now Odom, who last played in the NBA in 2014, has announced on...
Uruguayan World Cup star Edinson Cavani has more than one way of getting it in the net! The PSG striker - whose injury in Russia led to his nation's exit...
Golden State Warriors hotshot Steph Curry is the master of the impossible. Here's 10 of his best to wet the appetite for a new season. Can Steph and the Warriors...
Subscribe
By subscribing you agree to receive our promotional marketing materials and agree with our Privacy Policy. You may unsubscribe at any time.